About: where it all began



Hear how Camembear started and why it works


After gaining a BA (Hons) in French and German, Leanne Jefferson completed a PGCE in MFL. She went on to teach languages in secondary schools in London and Harrogate for over ten years. She developed the idea behind Camembear in 2006 whilst teaching French to her own children at home. Whilst researching the best way to engage children in a foreign language, Leanne discovered that children engaged better with a central character. When she dressed her son Freddie's favourite teddy in French attire, Camembear was born! Since then Camembear brought the fun back into learning languages to over 500 schools and nurseries.




Our Ethos

At Headstart Languages we understand the benefits of giving children a head start in languages and life.

We have a firm emphasis on customer service and adding value. That's why we offer a wide range of consolidation activities, additional games and learning activities to the Camembear programme to help extend the time you can use it to teach and reinforce the French language knowledge the programme offers.

They will be offered as updates that you will receive as part of your ongoing digital Camembear subscription.

Our Camembear Contributors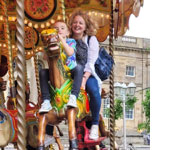 Ruth Newton, Director, The Helping Hub Limited, Childcare and Nursery Consultant
Ruth has worked with us for a number of years advising on the suitability of Camembear for the Early Years Foundation Stage (EYFS) curriculum that Ofsted registered Nurseries follow. She has a wealth of experience in the childcare sector from owning her own Day Nursery and Before & After School & Holiday Clubs, which is where she implemented the Camembear programme. She has an NVQ level 4 in Children's Care, Learning and Development, and BA (hons) in English and Drama. Ruth has direct experience of Ofsted Inspections for Early Years, using observation and assessment tools, and is passionate about Early Years providing every child with the ability to reach their best potential.
On Camembear, Ruth says:
'Camembear sits so well with the requirements of the EYFS, even more so since the 2021 revision to this valuable curriculum, as the holistic approach of the programme covers every single Early Learning Goal as well as the seven core areas of Learning. With pedagogy at the heart of the delivery of Camembear, this little bear has such appeal and endurance that makes learning all aspects of the EYFS and the French language both enjoyable and memorable for all involved – children and practitioners.'